EDMC would like to thank all of our Sponsors and donations from members towards this year's Pilgrimage so far.
Click on the pictures to follow the web links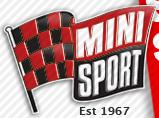 PRIZES SO FAR FOR PILGRIMAGE RAFFLE!
BMW Soft toy

£10 Voucher for MiniSport

£10 Voucher for MiniSpares

£10 Voucher for Somerford Mini

Custom Consoles Voucher: £25 off when you spend £50 or more.
EDMC Mini Pilgrimage 2010

Sunday 27th June