In 2009 we raised over £1000 for Children With Cancer Fund (CWCF), which helped pay for a fun day out for the families. This year - we're doing it again for CWCF!
Our fifth annual Pilgrimage is in progress for 2010 & hopes to be another fantastic day out! As is tradition, it will be held on the last Sunday in June, making it the 27th June 2010.
Beachy Head has proved to be a great starting point and the added tea break at the Cross Inn, Staplecross was so popular that we will be stopping there again. Lunch will be at the Kent and East Sussex Railway, Tenterden and we will be finishing again at Dane John Garden in Canterbury. The start time will be announced when plans have been finalised.
Each mini entered pays £10 (or a reduced price if you get your entry in early!). For this, you receive a run plaque, run notes and quiz as well as some other 'goodies' in a bag! You can raise whatever you can additionally towards the charity, by whatever means (keeping it legal and decent of course!)
In the past we have taken students to their school prom, held raffles, car boot sales and a charity car wash. For more details on how you can help us raise money please look on the forum or come along to a club meeting.
Registration forms and other information are available via the links below. Thank you for reading and we hope to see you in 2010.
To see links for our sponsors so far, click here
Contact us at the address below for further details or check out the Pilgrimage thread on the Forum.
e-mail: edmcpilgrimage@fsmail.net
Forms & Flyers to download:
NEW - 2010 Registration Form
NEW - 2010 Charity Leaflet (Double sided A4)
NEW - Small Charity leaflet (one side A5)
Basic sponsor form
Rules & Regulations - Important!
For updated news links, click on the pilgrimage logo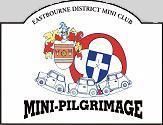 EDMC Mini Pilgrimage 2010

Sunday 27th June
Last year we gathered over 20 minis together and raised over £1000!